The Yellow Springs Rotary Club is excited to take part in its first service project!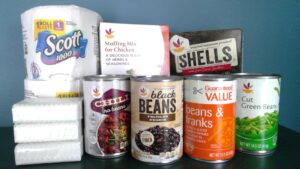 Have you set aside items for the Little Free Pantry but not had time to drop them off? Do you have a few extra things lying around at home that could be taken off your hands for a good cause?
Let us know! On (insert date here) we will be doing a Little Free Pantry pickup. Just contact Kraig at 513-238-5241, let us know your address and leave your items on your porch! We will pick items up and deliver them to the pantry for you.
Please, no perishable or expired items. However, you're not limited to food – other household necessities (soap, paper towels, toilet paper, feminine products, etc.) can also be helpful!
If you have any questions or concerns about this project, or are interested in joining the YS Rotary Club, contact the club at [email protected]